Kids' Consignment Sales for Philly Families: Frugal Finds for Baby Gear, Clothes, Toys and More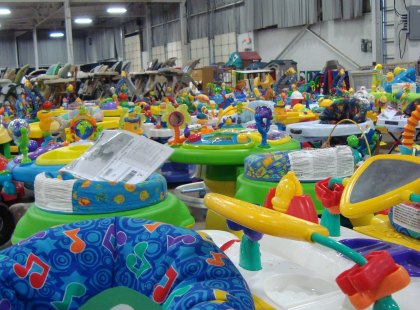 As all parents know, children outgrow their clothes at an alarming rate. One way to avoid breaking the bank each season on a new wardrobe is by shopping consignment sales. Each Spring and Fall, these weekend mommy markets pop up all over the Philadelphia area and offer families a great way to buy gently used clothes, shoes, toys, baby gear and other items at a large discount off retail. Consignment sales are also an opportunity to sell outgrown items for some extra cash. 
We are continuously updating our list with Spring 2015 sale dates, so keep checking back! Consignment sale organizers can submit their events for our calendar here.
Feb 24 - 26, 2015
Twice Is Nice
Church of the Good Samaritan
212 W. Lancaster Ave
Paoli, PA
Mar 6 - 8, 2015
The Clothing Tree
Benner Hall
1260 E. Cherry Road
Quakertown, PA
Mar 6 & 7, 2015
Second Time Around Kids' Sale
Marple Presbyterian Church
105 N. Sproul Road
Broomall, PA
Mar 7, 2015
Inglewood Elementary School Mommy Market
Inglewood Elementary School
1313 Allentown Road
Lansdale, PA
Mar 7 & 8, 2015
L'il Angels Kids Consignment Bensalem
St. Ephrem's Marian Parish Center
5400 Hulmeville Road
Bensalem, PA
Mar 7 & 8, 2015
Just Between Friends - Delaware
Louis Redding Middle School
201 New Street
Middletown, DE
Mar 7, 2015
Indian Valley Nursery School Kids Consignment Sale
Grace Bible Church
423 Main Street
Souderton, PA
Mar 7, 2015
Berks Kids Closet
Lebanon Expo Center
Lebanon, PA
Mar 7, 2015
Valley Forge Mothers of Twins & Triplets
Green Tree Church of the Brethren
1078 Egypt Road
Oaks, PA
Mar 13-14, 2015
Take 2 Consignment Sale
St. Luke's Greek Orthodox Church
35 North Malin Rd
Broomall, PA
Mar 13 & 14, 2015
MOPS Sale
St. Luke's United Church of Christ
200 West Main Street
Trappe, PA
Mar 13 & 14, 2015
Faithful Friends Consignment Sale
West Lawn United Methodist Church
101 Woodside Avenue
West Lawn, PA
Mar 13 - 15, 2015
Cozy Tots
Bryn Athyn Church Elementary School
600 Tomlinson Road
Bryn Athyn, PA
Mar 14, 2015
PJPII Kids Outgrown Sale
Pope John Paul II School Gymnasium
2875 Manor Rd (Rt 82)
West Brandywine, PA
Mar 14 & 15
Kool Kids Sale
Our Lady of Perpetual Help
1787 Woodbourne Rd
Levittown, PA
Mar 14, 2015
Growing Express
Trinity Episcopal Church
Bethlehem Pike and Highland Avenue
Ambler, PA
Mar 14, 2015
Bucks-Mont MOMs Rummage Sale
Trinity Lutheran Church- Hyson Hall
1000 W. Main Sts (Rts 63&363)
Lansdale, PA
Mar 14 & 15, 2015
Smart Moms Sale
Lower Providence Volunteer Fire Company
3199 Ridge Pike
Eagleville, PA
Mar 14, 2015
Mommy Market
North Wales Elementary
201 Summit Street
North Wales, PA
Mar 14, 2015
MOMS Club of Douglassville West Semi Annual Clothing & Equipment Sale
St. Paul's UCC Church, Douglas
1312 Old Swede Road
Douglasville, PA
Mar 14, 2015
Main Line Mothers of Multiples
Monsignor Bonner High School Gym
403 N Lansdowne Ave
Drexel Hill, PA
Mar 13 & 14, 2015
Precious Blessings Consignment Sale
Sacred Heart Gym
838 Walnut Street
Royersford, PA
Mar 19 - 21, 2015
Just Between Friends
Greater Philadelphia Expo Center
100 Station Avenue, Hall A
Oaks, PA
Mar 19 - 21, 2015
Best Dressed for Less
The Life Center at Fountain of Life Church
2035 Burlington-Columbus Road
Burlington, NJ
Mar 20 & 21, 2015
All Children's Sale
Heritage School
675 N. Wayne Avenue
Wayne, PA
Mar 20 & 21, 2015
Spring Chickens Sale
Armenian Martyrs' Congregational Church
100 N. Edmonds Avenue
Havertown, PA
Mar 20 - 22, 2015
Just4Kids Consignment
Rt. 41 (119 Kings Highway)
Maple Shade, NJ
Mar 21, 2015
Hopewell Christian Preschool Children's Everything Sale
Hopwell UMC
852 Hopwell Road
Downingtown, PA
Mar 21, 2015
Pennridge Women's Network Mother's Market
Calvary Church
820 Route 113
Souderton, PA
Mar 21-22, 2015
CVC Consignment Sales
Children's Village at Doylestown Hospital
595 West State Street
Doylestown, PA
Mar 26 - 29, 2015
Just Between Friends
Brandywine Youth Club
41 Thornton Road
Glen Mills, PA
Mar 26 - 28, 2015
Weeusables Children's Consignment
The Lancaster Host Resort Expo Center
2300 Lincoln Highway East
Lancaster, PA
Mar 27-28, 2015
KidSense Children's Consignment
Sunnybrook Ballroom
50 N. Sunnybrook Road
Pottstown, PA
Mar 27 - 29, 2015
Kids Kloset Swap
SMG Sports Plex
654 York Road
Warminster, PA
Mar 28, 2015
Chester County Mothers of Multiples Sale
United Sports and Training Center
1426 Marshalton-Thorndale Road
Downingtown, PA
Apr 10 - 12, 2015
JBF Lower Bucks
The Sportsplex
1331 O'Reilly Drive
Feasterville, PA
Apr 10 & 11, 2015
Take 2 Consignment Sale
Saints Simon & Jude
6 Cavanaugh Ct
West Chester, PA
Apr 10 - 12, 2015
The Kids Clothesline
Ag Hall/Allentown Fairgrounds
302 N. 17th Street
Allentown, PA
Apr 11 – 12, 2015
Bitty Bees
St. Basil the Great Gymnasium
2330 Kimberton Road
Kimberton, PA
Apr 11, 2015
Berks Kids Closet
Leesport Farmers Market
Leesport, PA
Apr 11, 2015
Mom's Market
Franconia Mennonite Church
613 Harleysville Pike
Franconia, PA
9am - 12pm
Apr 11 - 12, 2015
Just Between Friends Dover
Polytech High School
823 Walnut Shade Road
Dover, DE
Apr 11, 2015
Conshy Kids
Conshohocken Elementary School
301 Harry Street
Conshohocken, PA
Apr 11 & 12, 2015
The Clothing Tree
Palmer Twp Community Center
4100 Green Pond Road
Easton, PA
Apr 15 - 26, 2015
Charlestown PlayHouse Sale
Kimberton Firehouse Fairgrounds
Route 113 & Firehouse Ln
Kimberton, PA
Apr 18, 2015
Kids Korner Consignment
St. John's the Evangelist Catholic Church
752 Big Oak Road
Morrisville, PA
Apr 18 & 19, 2015
L'il Angels Kids Consignment NE Phila
Parkwood Youth Organization
3301 Mechanicsville Road
Philadelphia, PA
Apr 30 - May 2, 2015
The Saturday Club
The Historic Clubhouse
117 West Wayne Avenue
Wayne, PA
April 25-26, 2015
City Kids Sale
Neumann Goretti High School
1736 S. 10th St. (between Morris and Moore St.)
South Philadelphia, PA
Apr 30 - May 2, 2015
Just Between Friends
The Body Zone
3103 Paper Mill Road
Wyomissing, PA
May 1 - 3, 2015
JBF Sale Quakertown
BucksMont Indoor Sports Center
2278 North Penn Road
Hatfield, PA
May 30 – 31, 2015
Children's Cleanout Consignment Sale
MOMS Club of Garnet Valley
St John's Episcopal Church, 576 Concord Rd
Glen Mills, PA
---
Oct 11, 2014
St. Rose of Lima Fall Mommy Market
428 S. Main Street
North Wales, PA
Oct 11, 2014
Ambler YMCA Mommy Market
1325 McKean Road
Ambler, PA
11am - 2pm;
raindate Oct 12
Oct 18, 2014
Children's Consignment Sale
West Grove United Methodist Church
300 North Guernsey Road
West Grove, PA
Dec 6 & 7, 2014
Fall/Winter Children's Consignment Sale
Summerfield Church
Philadelphia, PA
Updated from the original, published September 2014